The weekend primer
By JGillman, Section News
Posted on Fri May 27, 2011 at 10:03:08 AM EST
Tags: Michigan, Republicans, Democrats, Rights, RTW, Freedom To Work, Sacrifice, Memorial Day, Liberty, Unions, Legislators (all tags)
Not a bad way to start the Memorial day weekend. A bad back, fighting to keep the starter plants alive through overnight frost, and the county budget still with a great gaping hole.
Nothing says "hello summer!" like an adversarial life situation.
But I suppose its not too bad. The back is only one part of me, the county has programs to cut, and the plants would die of neglect anyhow. And in the big picture, there are bigger fish fries to be had.
So I figured I would let you know there is some good news. I am polling Michigan State Representatives and Senators for an upcoming article on Freedom to work (right-to-work) initiatives. I have received almost half of their replies so far, and mostly all of them are going to be with the winning side of freeing our workers to work where their skills find them. Free to work, with no regard to a forced union membership or dues in lieu of said membership.
Predictably, the Democrats who have answered so far do not believe in worker freedom. I must give them credit however, for answering my inquiries, with the full understanding of who I am, and where the article will be written.
As we prepare for the Memorial Day weekend, I still encourage those good servants of our state to reconsider any opposition to the concept of freedom to work they may hold. ~ More below ~
The most compelling story this country has, is its commitment to freedom.
Real, observable individual freedom, choice of action, liberty.
To maintain that liberty, we have as a country sacrificed much over the last couple of hundred years. The lives lost in pursuit of an ideal that free men produce better governments, better living standards, and stronger families. The sacrifice of fighting men and women over the years, memorialized perhaps appropriately by the casual manner of cook outs, picnics, and summer type activities.
It makes perfect sense. Nothing drives home how free we are like the ability to walk into a store or market, and exchange at will, a bit of your earnings for a bit of theirs. Markets provide the produce of farmer's work, and we, as agreeable people decide what is of value to us. Our decisions spawned from our sense of value, and fairness.
A Win-Win if you will.
We memorialize those who fought for that ability. And even though similar transactions happen around the world we are different. And even though commerce itself is not unique to the United States of America, we recognize that the rugged individualism that the country was founded upon is the basis for new and innovative ways to live and celebrate this gift of humanity by our creator. We also know that without the ability to trade our goods and services freely, we become little more than a shadow of our formerly respected beacon of light. To this end, free markets must survive with as little restriction as is possible.
To sell something, one must possess it however. To trade your goods, you must have ownership in them.
What is it we own that by rights of God, and protected by self evident declarations cannot be taken away by any government, or authority of man, but for a voluntary act of sacrifice or submission?
Our hands. Our minds. Our will.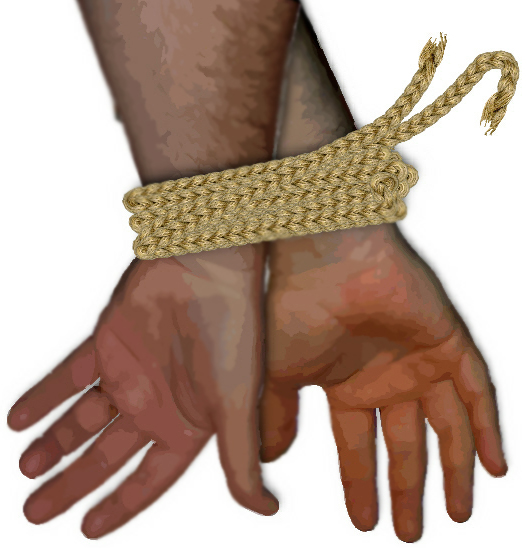 No law is legitimate that abrogates our dominion over these things, but for use as punishment.
Which begs the question: "Why would labor unions wish to punish Michiganders?"
And perhaps even further, "why would our legislators wish to punish those persons who merely wish to have control over their hands, their productivity, their will, and their creations?"
Many fought and died for an idea that our RIGHTS, granted by God, are protected by those sacrifices made. Life, Liberty, and the pursuit and freedom to create, build, and enhance our lives to happiness ought not be hindered by the desire to balance compensation among disparate circumstance.
Our God given rights demand an end to the ropes around our hands.
As our memories are littered with those who died trying to untie them.