Its coercive socialism on some form of stimulant.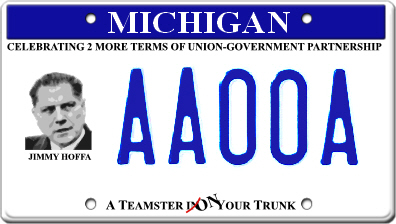 These guys are dead serious about taking away your ability to make decisions on your own, and want to be sure the hooks into their meal tickets in government are well protected.
Over the next few weeks we'll look at the different things big labor wants to protect for its use, and those laws and protections it wants to overturn to make Michigan more vulnerable to the whims of a few elite thugs running today's organized labor in this once great state. Sadly some really good people who are skilled in their trades and those in education get caught up in the back and forth, and frankly I cannot blame them for being a little concerned where they will be when the dust settles.
I can tell you there are many who ought not be in those fields however. And those are the ones who are concerned about the push for RTW, or Right-To-Work legislation by tea party types, constitutionalists, and right minded thinkers all over.
The weak among the organized masses are afraid. The organizers know it, and are ready with their own editorial template to counter common sense and promote further, the tenets of mediocrity.
As seen below the line