Your New Scoop Site
Welcome to Scoop!
To help you figure things out, there is a Scoop Admin Guide which can hopefully answer most of your questions.
Some tips:
Most of the layout is changed in "Blocks", found in the admin tools menu
Features can be turned on and off, and configured, in "Site Controls" in the admin tools menu
Stories have an "edit" link right beside the "Full Story" link on an index page, and right beside the "Post a Comment" link on the full story page. They can also be edited by clicking the story title in the "Story List" admin tool
Boxes are what allow you to write new features for Scoop; they require a knowledge of the perl programming language to work with effectively, although you can often make small changes without knowing much perl. If you would like a feature added but cannot program it yourself, ScoopHost does custom Scoop programming as one of its services.
If you aren't sure where to look for a particular feature or piece of display, try the "Search Admin Tools" link in the admin tools menu.
For support, questions, and general help with Scoop, email support@scoophost.com
ScoopHost.com is currently running Scoop version Undeterminable from .
Tag: Rights
By JGillman, Section News
Posted on Mon Jun 24, 2013 at 06:30:20 PM EST
Tags: Michigan, Welfare, Federal Overreach, Rick Snyder, Medicaid, Liberty, US Constitution, Health Care, Obamacare, Rights, Pandering, Morals, Ethics, State Senate, Compassion, Charity, Insurance, Detroit, Saginaw, Flint, Benton Harbor, Pontiac, Michiganders, Dependence, Forever Is A Long Time (all tags)
Compassion does not necessarily equal ethical behavior.
What someone might call "the right thing to do," might be anything but that. Especially if it requires that a crime be perpetrated in order to follow through. Most acts of compassion by an individual cannot be questioned. It is self sacrifice; or giving, that heals, nurtures, grows, etc. It becomes a very different act when perpetrated through coercion upon some for the benefit of others.
The affordable care act is one of those "right things to do" according to its supporters. However, it is also one of those things which has no authority as an enumerated power defined in the constitution. The federal government has no authority to act on state's issues such as health care, welfare, and schooling. Only the broadest interpretation of commerce issues allow it to assume other responsibilities such as labor and transportation, but those come from the weak links established through a lazy practice known as case law, and precedent.
The federal government has no reason to be involved in, or managing the critical aspects of our lives. The mantra of "Its the law of the land" be damned. We still have a constitution, as damaged as it might be through neglect and cowardice. It provides absolute protections from authority to the people, and to the states which those people reside.
Unless those states and people surrender to that authority.
Continued below
(1815 words in story) Full Story
By JGillman, Section News
Posted on Wed Jul 04, 2012 at 09:57:49 AM EST
Tags: Michigan July 4, Independence Day, SCOTUS, Snyder, Constitution, Rights, GOD, Creator, Self Evident Truths, Fireworks, Leadership, Defenders (all tags)
I said no to fireworks on the fourth.
As a county commissioner, last year I voted with the prevailing side for Grand Traverse County to NOT contribute funds to the local fireworks displays on independence day. While a couple of those who wanted to do so cried "unpatriotic", the decision was that we would not use taxpayer funds for the light and noise show so often associated with July 4 activities.
It really wasn't that difficult.
Don't get me wrong. I like fireworks too. and of course the cost was minimal. A few thousand dollars to help subsidize an operation that had been somewhat disrupted by a change in a local veterans organization that was till then handling the project's financials, doesn't seem like a great burden. However, added to it were the contributions from local townships, and other govt agencies, all of which must first take from the citizens by force, to make such generous entertainment available. The local non profit which brought it before our board, had considerable means to make its own contributions, yet had not even pledged a single penny to the affair at that point.
Why bother when government will foot the bill, right? The taxpayers will be only paying pennies. What great entertainment! Caesar, keep us happy!!!
Next thing we might be funding would be large venue amphitheaters with large carnivore elements.
In the end however, some business owners (along with a few of those govt agencies) decided to step up to the plate. Sponsorships rolled in, and July 4th festivities were saved!
Imagine that. (continued below the fold)
(9 comments, 847 words in story) Full Story
A Message To Our Legislators - Beware False Choices
By JGillman, Section News
Posted on Fri Jan 20, 2012 at 10:11:26 AM EST
Tags: Insurance, Michigan, Health Care, Exchanges, Obamacare, Nursing, Government, Abigail Nobel, SB693, Regulations, Rights, Wrecking The System (all tags)
Especially if it gives ANY leverage to Obamacare.
"Obamacare," or whatever the current name is for the redistributive healthcare plan, is unraveling daily. Between the "unforeseen" costs, and technical problems with implementing it, the biggest government grab of power in the history of the country is showing itself to be what we have called it all along. A worthless, dangerous, legislative Cluster-Foxtrot.
Michigan has had the opportunity to say no to the legislation under the tenth amendment, yet has not yet done so. Our previous Attorney General Mike Cox joined with 26 other states in a lawsuit against Obamacare, and the current AG has continued that course. And as the case makes its way into the Supreme Court of the United States, we are still working against ourselves by accepting the federal bribes and creating the framework for the Obamacare implementation.
But it still must pass through our legislature.
Yesterday, there was an opportunity for testimony on the Michigan Healthcare exchange. The Honorable Chairwoman Gail Haines was gracious enough to extend the public meeting time so that citizens could have their voices heard. One of those voices, Abigail Nobel, spoke regarding Senate Bill 693.
Below the line for her sage words.
(11 comments, 986 words in story) Full Story
By JGillman, Section News
Posted on Thu Oct 27, 2011 at 10:08:41 AM EST
Tags: Opinions, Michigan, AG, Attorney General, Frank Kelley, Constitution, Rights, 4th Amendment, Legacy Reworked, Tough Cookies Hoss, State Police v. Sitz (all tags)
Former attorney General Frank Kelley is bemoaning the fact some of his work is being looked at a little more closely.
He is feeling a bit put
out apparently:
But he's worried now, about us -- our state, our nation, and our future. Last week he sent a rather remarkable letter to a number of opinion leaders in this state. "I am writing to you now with a sense of dismay," he says. "During my time in office I truly tried to serve the people," he says, adding with pride that, "during my time in office, very few of my opinions were ever overturned."

Opinions issued by an attorney general, by the way, have the force of law, unless they are specifically overturned by a court.
So he is super bummed that he is being told he is wrong. Big surprise.
Kelley complains that constitutional protections are being threatened. Particularly where corporations and money going to elections would be concerned. Strangely, I don't recall a Kelly 'decision' that said unions couldn't participate in the election process, and I really don't recall any kvetching about the McCain Feingold bill which convoluted the entire process even more. No, Franky Kelley would like it one way and if the flavor doesn't have his stink, he isn't happy.
Go cry a river FORMER ag.
And while you are at it, consider this great representation of individual rights you fought for. Yeah, that one. Right.
Now used for seat belt enforcement justification, it is a wholesale abrogation of the 4th brought to you by this concerned genius. He was wrong then, and still wrong today.
By JGillman, Section News
Posted on Fri May 27, 2011 at 10:03:08 AM EST
Tags: Michigan, Republicans, Democrats, Rights, RTW, Freedom To Work, Sacrifice, Memorial Day, Liberty, Unions, Legislators (all tags)
Not a bad way to start the Memorial day weekend. A bad back, fighting to keep the starter plants alive through overnight frost, and the county budget still with a great gaping hole.
Nothing says "hello summer!" like an adversarial life situation.
But I suppose its not too bad. The back is only one part of me, the county has programs to cut, and the plants would die of neglect anyhow. And in the big picture, there are bigger fish fries to be had.
So I figured I would let you know there is some good news. I am polling Michigan State Representatives and Senators for an upcoming article on Freedom to work (right-to-work) initiatives. I have received almost half of their replies so far, and mostly all of them are going to be with the winning side of freeing our workers to work where their skills find them. Free to work, with no regard to a forced union membership or dues in lieu of said membership.
Predictably, the Democrats who have answered so far do not believe in worker freedom. I must give them credit however, for answering my inquiries, with the full understanding of who I am, and where the article will be written.
As we prepare for the Memorial Day weekend, I still encourage those good servants of our state to reconsider any opposition to the concept of freedom to work they may hold. ~ More below ~
(715 words in story) Full Story
By JGillman, Section News
Posted on Mon Apr 04, 2011 at 10:26:01 PM EST
Tags: Michigan, Labor, AFL-CIO, RTW, Right-To-Work, Template Letter, Money, Rights, Gary Glenn (all tags)
Its coercive socialism on some form of stimulant.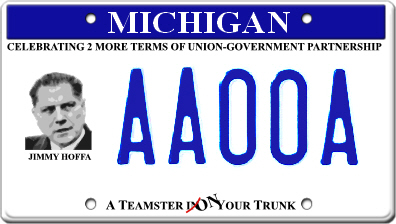 These guys are dead serious about taking away your ability to make decisions on your own, and want to be sure the hooks into their meal tickets in government are well protected.
Over the next few weeks we'll look at the different things big labor wants to protect for its use, and those laws and protections it wants to overturn to make Michigan more vulnerable to the whims of a few elite thugs running today's organized labor in this once great state. Sadly some really good people who are skilled in their trades and those in education get caught up in the back and forth, and frankly I cannot blame them for being a little concerned where they will be when the dust settles.
I can tell you there are many who ought not be in those fields however. And those are the ones who are concerned about the push for RTW, or Right-To-Work legislation by tea party types, constitutionalists, and right minded thinkers all over.
The weak among the organized masses are afraid. The organizers know it, and are ready with their own editorial template to counter common sense and promote further, the tenets of mediocrity.
As seen below the line
(6 comments, 1086 words in story) Full Story
By JGillman, Section News
Posted on Mon Mar 14, 2011 at 10:58:55 PM EST
Tags: Morality, Choice, Rights, Politics, Michigan, Peninsula, Acme, East Bay, Townships, Traverse City, Garbage, Monopolies, Government (all tags)
One of the local issues that has continued to make headlines is the single hauler question. The question being, whether it is appropriate for the local governments to mandate a single hauler for an entire area of private citizens or allow them to continue choosing their own.
Let that sink in.
Allowing private citizens to make a decision on what garbage service they might purchase.
The chilling advocacy of removing the ability of one to contract for themselves, often becomes the result of a perceived problem. A perceived problem that has likely been amplified by complaints of noise, traffic, and "those ugly ol garbage trucks driving by more than once a week." Grown out of proportion by elected officials concerned about the financial means of maintaining roadways as their budgets disintegrate around them. Grown, amplified, and thrust forward eagerly by the "gods of the copybook headings."
A city, and two townships have fallen to this ruse of benefit to the citizenry. The false promise of saved roads, and less garbage truck traffic blight buying the conservative souls of those who think they are being fiscally responsible negotiating the "best deals" for their constituents. The false promise and Faustian bargain that takes away the true rights to negotiate for one's own self, and instead, insert a board-knows-best dependency upon the public.
For a little coin.
(2 comments, 543 words in story) Full Story
Advertise on RightMichigan.com
Tweet along with RightMichigan by
following us on Twitter HERE!
Front Page