Your New Scoop Site
Welcome to Scoop!
To help you figure things out, there is a Scoop Admin Guide which can hopefully answer most of your questions.
Some tips:
Most of the layout is changed in "Blocks", found in the admin tools menu
Features can be turned on and off, and configured, in "Site Controls" in the admin tools menu
Stories have an "edit" link right beside the "Full Story" link on an index page, and right beside the "Post a Comment" link on the full story page. They can also be edited by clicking the story title in the "Story List" admin tool
Boxes are what allow you to write new features for Scoop; they require a knowledge of the perl programming language to work with effectively, although you can often make small changes without knowing much perl. If you would like a feature added but cannot program it yourself, ScoopHost does custom Scoop programming as one of its services.
If you aren't sure where to look for a particular feature or piece of display, try the "Search Admin Tools" link in the admin tools menu.
For support, questions, and general help with Scoop, email support@scoophost.com
ScoopHost.com is currently running Scoop version Undeterminable from .
Tag: Money
By JGillman, Section News
Posted on Tue Dec 03, 2013 at 10:34:52 AM EST
Tags: Michigan, Health Care, Insurer of Last Resort, BCBS, Obamacare, Wealth Transfer, Power, Money, Legislature, Suckers, Theft. (all tags)
Just kicking back and appreciating the theft
unanimously
approved early this year in the state senate, and
nearly as much
in the state house.
Once upon a time, the insurer of last resort (yeah Michiganians have had a cant-deny-preexisting insurer for several decades already)was owned by you and I. (since 1939) As recently as a few years ago, it even carried a balance sheet of about $6,000,000,000.00 including over $3,000,000,000.00 cash reserves. The BCBS board tried to use those reserves in for-profit ventures, (a great way to pass off cash to private partners) and were stopped by then attorney general Mike Cox. In 2008, Cox kept BCBS of MI in check.
But things are different now. This time no one stepped in to stop the transference of a GREAT BIG PILE OF MONEY away from Michigan citizens. And the great big Obamacare boondoggle helped them do it. Now that they aren't owned by you and I, its time to make some real cash!
"Blue Cross Blue Shield of Michigan shows a projected savings of tens of millions of dollars next year by terminating 25 individual health plans that were noncompliant with the Affordable Care Act.

Over the past decade, Blue Cross has lost hundreds of millions of dollars in the individual market as Michigan's designated insurer of last resort, a moniker it no longer has under health care reform with all insurers now required to cover people with pre-existing conditions and its conversion earlier this year into a mutual health insurer. "
Note that a loss means a growth in cash reserves over the same period.
How clever.
Enjoy the song.
By JGillman, Section News
Posted on Fri Oct 18, 2013 at 08:55:11 AM EST
Tags: Cronyism, David Trott, Foreclosure King, Dick Devos, Mike Illitch, Money, Congress, Establishment Games, Campaign Finance, Big Billers, Debt (all tags)
How does one make money off of a "self funded" campaign for congress?
He pads the expenses with his own services.
The ivory tower reports Foreclosure Don David Trott has heavily invested in his own campaign to become a US congressman.
"An Oakland County lawyer has raised nearly $650,000 in a month on the campaign trail -- including more than $200,000 from himself -- far outdistancing the Republican congressman he hopes to unseat."
The tactic to show strong funding early on is designed to convince other potential supporters of the seriousness, and personal input as a dedication to the campaign.
However, Trott isn't really leaving himself as exposed as those whom he has made his living off of for so many years. Risk is for losers, right? Get a few Daddy war-BUCKS from Cronyist liberal Illitch family, some Devos dollars, and bill yourself heavily so that an amended filing pays you for your time. The story continues:
".. Trott contributed more than $105,000 in in-kind services -- including research, consulting and legal fees -- as well as putting $102,600 of his own money into the campaign, according to FEC records.
Holy cow! If that is what he bills himself, what will he possibly cost taxpayers!
It seems that the "more than $105,000" number can be considered a debt of the campaign with a little modification of the paperwork. Add that to his personal $102,600 cash infusion, and he could make a little ka-ching for his troubles as long as there are others filling the coffers.
Gotta love financial shenanigans.
(13 comments) Comments >>
A Message To Our Legislators - Beware False Choices
By JGillman, Section News
Posted on Thu Sep 05, 2013 at 02:14:55 PM EST
Tags: Michigan CD11, Dave Trott, More Lawyers, Congress, Bucket List, $477445, Money, Kerry Bentivolio (all tags)
Actually, I don't know a lot about this guy David Trott.
He's announced he will be challenging Kerry Bentivolio in the CD11 Republican primary. He apparently believes he can serve the district and the country better than the current incumbent, and I'm OK with a challenge on who can be the better conservative. I've said it before, I LIKE primaries.
"Crazy thought for a staunch conservative, right? Perhaps. But not if one has had the philosophical disagreements still within the framework of that conservatism. Not if those disagreements extend into Republican governance. Not if any particular conservative part of the constituency still feels his or her best representation is not being made."
I say "bring it on!"
But Dave? Make sure you really have a reason, please.
If you feel its just your turn Mr Trott? Stay home. If you feel that several hundred thousand dollars in Michigan political campaigns over the last several years has earned you the seat, I disagree. If you think however, that Kerry Bentivolio's record of defending the constitution is lacking, and you can make a case for it, do it here.
(1 comment) Comments >>
By JGillman, Section News
Posted on Tue Aug 20, 2013 at 02:42:42 PM EST
Tags: Michigan, Detroit, Personal Responsibility, Money, Bankruptcy, Water Features, Fountains (all tags)
The futile exercise of responsible governance in today's America requires no further example than Detroit.
Detroit, the once beautiful jewel of Michigan, tortured with decades of progressivism, Cronyism, and corruption, just cannot stop failing. Somehow, in the midst of a bankruptcy, preceded by the spending of 15 or so billion dollars as yet unearned, and the jail sentences of ONLY a few of the officials responsible, the city still must do stupid things, like build water play fountains it cannot afford.
Or make work. From Fox2:
"They served up free ice cold bottled water and delicious grilled hot dogs. The T-shirts looked good reading "Palmer Park Splash Park" and the ribbon cutting went well. Just one little glitch at the new park, there was no water! A water main break dried up the splash park for its grand opening!

"We had a mishap with a water main that broke," explained Detroit Mayor Dave Bing. "We have a water system that's 100 years old so those things happen."
So maybe, just maybe, the money spent on the splash park
could have been spent towards that 100 year old water system first?
Continued below the fold.
(6 comments, 370 words in story) Full Story
By JGillman, Section News
Posted on Fri Mar 15, 2013 at 03:22:55 PM EST
Tags: Traverse City, Michigan, Cigarettes, Money, Addiction, Obama, Rent, HUD, Housing, Section 8, Welfare, No Shame Anymore, Corporate Cronyism, Reality, No Money, Finite Resources, Obama Stash, Government Jobs, Housing Authorities, The Rent Pimps (all tags)
For about 5 years the Pavlovian expectation of a cigarette followed every meal.
In about 11 months, I celebrate my 20th anniversary of being tobacco free. In the first 5 years of that, it was a fight to stay off the nicotine, and the body and mind played tricks to try and get me puffing again. Stress, the after dinner reach for a pack, drive time, all of those things I thought of as pleasurable for so long, reached up from the depths often, in order to regain its hold over me. Its hold from a time when I was its slave, and it was my benevolent master.
As long as I fed it, the habit made me relax for a time, and I was allowed to live in my skin.
Some folks have compared tobacco addiction to that of heroin, or other narcotics. Others, to its oft used partner, alcohol. Though I have never experienced the withdrawal effects of those, I believe I understand them as a result of having had been a smoker for well over a decade. The 'habit' was more than that. It was an unchangeable lifestyle; a daily thing that demanded my attention, or the consequences would be hellish.
There is a drug that is worse however.
And it won't be your body or mind reminding you how bad its going to be without it. It will be active little monsters who also get a high from it, and want you hooked for as long as it takes for THEM to live THEIR lives.
Continued below.
(12 comments, 793 words in story) Full Story
By JGillman, Section News
Posted on Thu May 24, 2012 at 03:28:04 PM EST
Tags: Michigan, CD6, Republican, Fred Upton, Franking, Mailer, NRA, Ethics, Money, Abuse (all tags)
King's privilege right?
ALG President Bill Wilson today sent a letter to the House Ethics Committee today questioning Michigan CD6 Fred Upton's use of taxpayer paid franked mail to tout his political rating by the NRA to his constituents. The letter suggests Upton could well afford to campaign on his own dime without the use of taxpayer dollars:
"To be clear, if Mr. Upton had chosen to write about specific legislation mentioning key organizations who supported or opposed it as part of his rationale to his constituents as to why he voted a certain way, that would be inside the lines. However, putting out what can only be called a "campaign" piece using taxpayer funds is repugnant.

I am confident that between the political campaign war chest that a powerful committee chairman can easily amass, and his own personal wealth, Mr. Upton could afford to pay for his own political direct mail without need of taxpayer assistance. Given this confidence, this mailing is all the more offensive, as it reveals Mr. Upton's sense of entitlement to the perks and benefits of office that are so repugnant to Americans across the political spectrum."
Sense of entitlement, indeed.
Once bitten by the entitlement bug, its hard to shake I suppose. Stamps for Christmas cards, or pictures of hunting folk carrying guns to posture for support. All paid for with the sweat from taxpayer brows. Upton for his part, has defended his actions already, claiming the money he DIDN'T spend shows he is a fiscal hawk."
"Again this year, I will be returning money to the treasury that I could spend," Upton said."
Oh.
Then there is nothing to see here. Move along.

By JGillman, Section News
Posted on Wed Oct 05, 2011 at 07:14:41 AM EST
Tags: WSU, U of M, Mary Sue Coleman, Allan Gilmour, Consolidation, Money, Autonomous Business, Funny (all tags)
Sometimes overpaid, overly powerful, over egoed individuals can cartoon themselves in a single line.
Mary Sue Coleman's comment during a discussion on consolidation
just struck me as humorous. from the Ivory Tower:
"We are market driven," Coleman said. "If we are offering a degree that nobody wants, we drop it."
Uhh yeah, but Mary sue? If you eliminate ALL "Non Market" elements from the program, could you still say that?
Right. I thought so. But the chuckles don't stop there. WSU president Allan Gilmour says there's not much "clamor" for consolidation.
"The alternative (to autonomous universities) is a czar, a commission in Lansing," he said, adding he didn't think any of the business leaders in the audience would want politicians running their companies.
Oh heavens no. Not politicians. In fact I agree.
But Mr Gilmour? They pay to play. WE pay to play. So maybe you ought to swear off public assistance entirely and for the benefit of M.S. Coleman and yourself become TRULY autonomous, so that you can attain TRUE market status.
Ask your economics departments how that will work for you.
And carry a laugh prompt card for use as necessary.
(5 comments) Comments >>
By JGillman, Section News
Posted on Mon Apr 04, 2011 at 10:26:01 PM EST
Tags: Michigan, Labor, AFL-CIO, RTW, Right-To-Work, Template Letter, Money, Rights, Gary Glenn (all tags)
Its coercive socialism on some form of stimulant.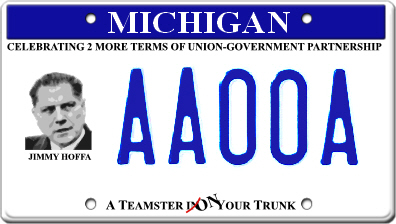 These guys are dead serious about taking away your ability to make decisions on your own, and want to be sure the hooks into their meal tickets in government are well protected.
Over the next few weeks we'll look at the different things big labor wants to protect for its use, and those laws and protections it wants to overturn to make Michigan more vulnerable to the whims of a few elite thugs running today's organized labor in this once great state. Sadly some really good people who are skilled in their trades and those in education get caught up in the back and forth, and frankly I cannot blame them for being a little concerned where they will be when the dust settles.
I can tell you there are many who ought not be in those fields however. And those are the ones who are concerned about the push for RTW, or Right-To-Work legislation by tea party types, constitutionalists, and right minded thinkers all over.
The weak among the organized masses are afraid. The organizers know it, and are ready with their own editorial template to counter common sense and promote further, the tenets of mediocrity.
As seen below the line
(6 comments, 1086 words in story) Full Story
Advertise on RightMichigan.com
Tweet along with RightMichigan by
following us on Twitter HERE!
Front Page